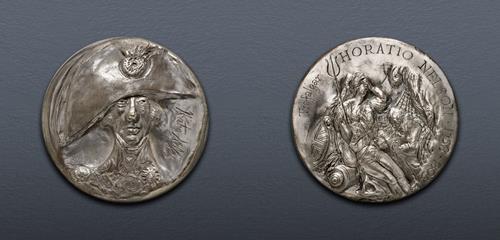 Nelson Memorials. AR Medal (75mm, 360.2 g, 12h). French Mint. By R. Searle. Dated 1758, 1805, and 1981.
Keystone Auction 7 – The J. Eric Engstrom Collection of Admiral Nelson Medals
Lot: 94. Estimated: $ 1 000
Admiral Nelson Medals, Silver
Sold For $ 1 300. This amount does not include the buyer's fee.
Nelson Memorials. AR Medal (75mm, 360.2 g, 12h). French Mint. By R. Searle. Dated 1758, 1805, and 1981. Caricature-style bust of Nelson facing, wearing bicorn; in incuse to right, Horatio Nelson / Trafalgar HORATIO NELSON 1758-1805 in incuse, Britannia, leaning on Union shield and holding trident, mourning a fallen Nelson in her arms. Edge: (hallmark and cornucopia) ARGENT. Hardy 211. Toned. EF. Rare. The artist's personal example, including a stand and letter from Searle's daughter on his own letterhead, indicating that the piece was kept in his office until Searle's death.

From the J. Eric Engstrom Collection. Ex Ron Searle, with note on his letterhead.

A note from the collector: Ronald Searle CBE (1920-2011) was perhaps the most accomplished caricaturist-cartoonist-illustrator of the 20th century. He was a worthy successor to Hogarth, Rowlandson, and Gillray. He is best known for his many covers for Punch, the New Yorker, and illustrations for book series of St. Trinian and Molesworth. in 1961 he moved to France and produced medals for the French Mint and the British Art Medal Society, which he helped found.

The French Mint director Pierre Dehaye commissioned Searle to produce a Nelson medal for the Mint's collectors club. The result was a caricature piece. Nelson has a bulbous nose, his tricorn hat is askew, and he appears 'two sheets to the wind,' as the sailor's expression goes. At the right is the signature "Horatio Nelson," on the reverse is a mortally wounded Nelson supported by a tearful Britannia with the features of Emma Hamilton. Around is the legend "Trafalgar Horation Nelson 1758-1805."

The cartoonish style harkens back to the savage illustrations of the late 18th/early 19th centuries, when no one, not ever the king and queen, were safe from ridicule. "Still," as Harvey says, "the French Mint had issued many medals in salutation to their national victories, but a state medal depicting the orchestrator of France's most notorious defeat at sea was quite unprecedented."

Whatever the motivation, this medal is highly sought after, and the controversy continues. Offered here is Ronald Searle's own specimen in silver, which he kept on his desk in his studio until his death, as remembered in the accompanying letter from the artist's daughter. One hundred were issued in silver at 76mm and not more than 500 in bronze at 68mm.

Closing Date and Time: 6 July 2022 at 10:31:00 ET.



Winning bids are subject to a 20% buyer's fee for bids placed on this website, 22.50% for all others.