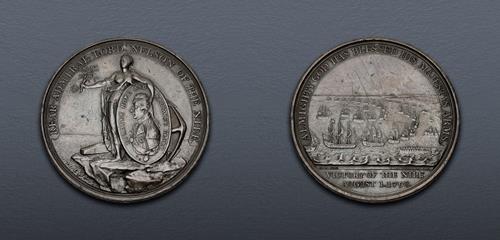 The Battle of the Nile. Æ Medal (46mm, 39.87 g, 12h). Soho (Birmingham) mint. By C.H. Küchler. Distributed by A. Davison. Dated 1 August 1798.
Keystone Auction 7 – The J. Eric Engstrom Collection of Admiral Nelson Medals
Lot: 7. Estimated: $ 100
Admiral Nelson Medals, Bronze
Sold For $ 300. This amount does not include the buyer's fee.
The Battle of the Nile. Æ Medal (46mm, 39.87 g, 12h). Soho (Birmingham) mint. By C.H. Küchler. Distributed by A. Davison. Dated 1 August 1798. REAR-ADMIRAL LORD NELSON OF THE NILE, Hope standing facing on rocky promontory, head left, holding olive branch and shield bearing bust of Horatio Nelson left, in military regalia and inscribed EUROPE'S HOPE AND BRITAIN'S GLORY; anchor to right / ALMIGHTY GOD HAS BLESSED HIS MAJESTY'S ARMS, British fleet assembled in Aboukir Bay, preparing to engage the French; M.B.SOBO and C.H.KUCHLER.FEC. below; in two lines in exergue, VICTORY OF THE NILE/AUGUST 1.1798. Edge: A TRIBUTE OF REGARD. FROM ALEXR. DAVISON ESQR. ST. JAMES'S SQUARE. Hardy 5; BHM 447; Eimer 890. Brown surfaces, scattered marks and scratches, edge bruises, remains of mount on edge. Good VF.

From the J. Eric Engstrom Collection.

The Battle of the Nile, also known as the Battle of Aboukir Bay, took place in August of 1798, after a three month game of cat and mouse between the British and French fleets. The French fleet had successfully carried Napoleon and his army from Toulon to Alexandria, allowing the French general to successfully invade Egypt in an attempt to cut Great Britain off from its colonies in India. Though unsuccessful in preventing the French fleet under Admiral Brueys from reaching Alexandria, Nelson was able to corner them within the confines of Aboukir Bay. Nelson commanded fourteen ships of the line to Brueys thirteen, but the French sailors were on shore assisting with further unloading and when the British attacked the majority were without their full crews. Nelson's plan of attack was aggressive and stunningly effective as many French ships took heavy damage and casualties. Eventually, the French flagship Orient caught fire below decks and blew up killing over a thousand of the French crew unable to evacuate in time. When the battle was clearly lost, two French ships of the line managed to break free from the bay and escape, but the remainder were captured or destroyed. Admiral Brueys had died aboard his flagship and Nelson received a severe head wound that kept him recovering for weeks. Despite his injuries, Nelson had managed to inflict one of the most lopsided defeats in modern naval history upon the French. His victory established British control of the Mediterranean and effectively stranded Napoleon and his army in Egypt.

Silver strikings of this medal were presented to officers and warrant officers, while gilt examples were given to petty officers. Seamen and marines received plain copper medals.

Closing Date and Time: 6 July 2022 at 10:02:00 ET.



Winning bids are subject to a 20% buyer's fee for bids placed on this website, 22.50% for all others.