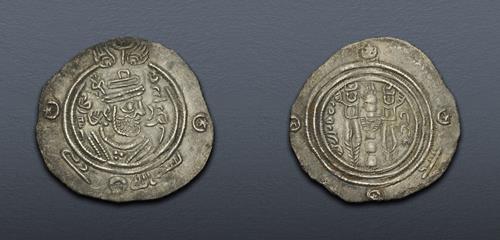 Umayyad Caliphate. temp. al-Walid I ibn 'Abd al-Malik. AH 86-96 / AD 705-715. Eastern Sistan Series. 'Abd (probably 'Abd al-Rabba b. 'Abdallah, sub-governor in Sistan circa AH 87-88 / AD 706-7). AR Drachm (31.5mm, 3.83g, 7h). SK (Sistan) mint. Dated AH 87
CNG Islamic Auction 1
Lot: 52. Estimated: $ 500
Pre-Reform Coinage, Silver
Sold For $ 650. This amount does not include the buyer's fee.
Umayyad Caliphate. temp. al-Walid I ibn 'Abd al-Malik. AH 86-96 / AD 705-715. Eastern Sistan Series. 'Abd (probably 'Abd al-Rabba b. 'Abdallah, sub-governor in Sistan circa AH 87-88 / AD 706-7). AR Drachm (31.5mm, 3.83g, 7h). SK (Sistan) mint. Dated AH 87 / AD 705/6. Obverse margin: - / bismillah /  rabbi  / -.  Reverse margin: - / 'Abd / - / -. Cf Malek 1076 (without 'Abd on reverse). Good VF. Extremely rare.

Ex Morton & Eden (London) auction 210, 15 October 2020, lot 1024.

Misma' b. Malik died in Sistan during AH 86 / AD 705/6, and was replaced by Qutayba b. Muslim.  Qutayba did not place his own name on the drachm coinage, retaining that of the long-dead Khusraw instead.  However, according to the Tarikh-i Sistan, Qutayba appointed 'Abd al-Rabba b. 'Abdallah as his sub-governor in Sistan, but dismissed him in favour of Nu'man b. 'Awf during the year AH 88.  The name of 'Abd is placed in the reverse margin, as befitting his status as a sub-governor.


The final winners of all CNG Islamic Auction 1 lots will be determined at the live online sale that will be held on 25 May 2022, beginning at 10:00 AM ET.

Winning bids are subject to a 20% buyer's fee for bids placed on this website and 22.50% for all others.

We recognize that our users may have various Internet Browsers and Operating Systems. We like our visitors to have the best possible experience when using our bidding platform. However, we do recognize that it is impossible to develop applications that work identically, efficiently and effectively on all web browsers. The CNG bidding platform supports the latest stable major version and the stable previous version of Mozilla Firefox and Chrome.