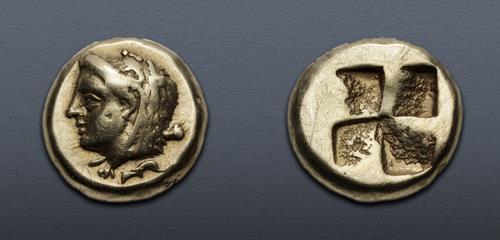 IONIA, Phokaia. Circa 387-326 BC. EL Hekte – Sixth Stater (10.5mm, 2.53 g).
Triton XXV – Session 6
Lot: 6106. Estimated: $ 300
Greek, Electrum
Sold For $ 1 100. This amount does not include the buyer's fee.
IONIA, Phokaia. Circa 387-326 BC. EL Hekte – Sixth Stater (10.5mm, 2.53 g). Head of Omphale left, wearing lion skin; club behind neck; below, small seal left / Quadripartite incuse square. Bodenstedt Em. 107. Some light scratches and hairlines. VF. Well centered.

In expiation for his murder of Iphitos at Tiryns, Herakles was ordered by the Delphic oracle to serve Omphale, the queen of Lydia, for one year. During this time, he performed a number of labors, similar to those which he undertook while serving Eurystheus, including the capture of the Kerkopes, the killing of the Syleus, and the conquest of the city of the Itones. At the same time, he was forced to wear women's clothing and spin wool and, according to the poet Ovid (Fasti 2.305), at one point during this time Omphale even wore Herakles' lion skin and carried his club while ordering him about. However, these actions seemed to have little ill-effect on the hero; after his year's service was completed, Herakles married Omphale.

Closing Date and Time: 26 January 2022 at 10:35:00 ET.

Winning bids are subject to a 20% buyer's fee for bids placed on this website.

We recognize that our users may have various Internet Browsers and Operating Systems. We like our visitors to have the best possible experience when using our bidding platform. However, we do recognize that it is impossible to develop applications that work identically, efficiently and effectively on all web browsers. The CNG bidding platform supports the latest stable major version and the stable previous version of Mozilla Firefox and Chrome.