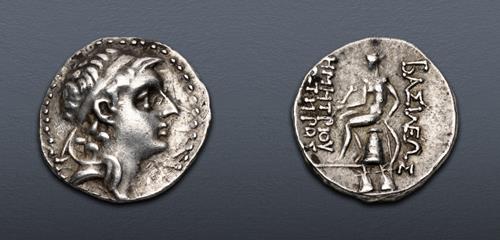 SELEUKID EMPIRE. Demetrios I Soter. 162-150 BC. AR Drachm (17mm, 4.09 g, 4h). Ekbatana mint.
Triton XXV – Session 5
Lot: 5114. Estimated: $ 200
Greek, Silver
Sold For $ 425. This amount does not include the buyer's fee.
SELEUKID EMPIRE. Demetrios I Soter. 162-150 BC. AR Drachm (17mm, 4.09 g, 4h). Ekbatana mint. Diademed head right / Apollo, testing arrow and resting hand on bow, seated left on omphalos; piloi of the Dioskouri in exergue. Unpublished. Toned, softly struck obverse. VF. Apparently unique example with the soter epithet on the left, rather than the exergue, and with this control mark (piloi of the Dioskouri).

From the MNL Collection. Ex Classical Numismatic Group Electronic Auction 402 (26 July 2017), lot 297.

The piloi of the Dioskouri was previously used as a control mark at Ekbatana on an issue of drachms of Seleukos IV (SC 1362.2), where it also appeared in the exergue. All of the previously known drachms of Demetrios from Ekbatana, the epithet only appears in the exergue, as on the tetradrachms. Thus, this coin is likely either the first or last issue of drachms at Ekbatana, since both Demetrios's predecessor, Timarchos, and successor, Alexander I Balas, placed their epithets on the left side of their reverses, as here.

The final winners of all Triton XXV Session V lots will be determined at the live online sale that will be held on 25 January 2022 beginning at 10:00 AM ET.

Winning bids are subject to a 20% buyer's fee for bids placed on this website.

We recognize that our users may have various Internet Browsers and Operating Systems. We like our visitors to have the best possible experience when using our bidding platform. However, we do recognize that it is impossible to develop applications that work identically, efficiently and effectively on all web browsers. The CNG bidding platform supports the latest stable major version and the stable previous version of Mozilla Firefox and Chrome.