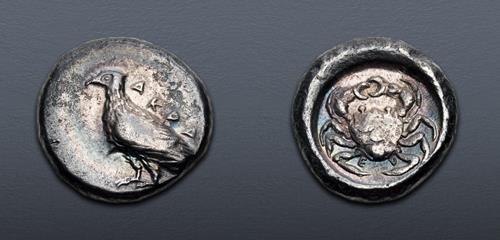 SICILY, Akragas. Circa 495-485 BC. AR Didrachm (20mm, 7.86 g, 2h).
Triton XXV – Session 5
Lot: 5014. Estimated: $ 1 000
Greek, Silver
Sold For $ 2 750. This amount does not include the buyer's fee.
SICILY, Akragas. Circa 495-485 BC. AR Didrachm (20mm, 7.86 g, 2h). Sea eagle standing left / Crab, with carapace in the form of a human face; tiny E V below; all within incuse circle. Westermark, Coinage, Period I, Group II, 105.2 (O44/R65 – this coin, illustrated); HGC 2, 92; SNG Copenhagen 35 (same rev. die). Dark iridescent tone, area of weak strike, some light roughness and old cleaning scratches under tone. VF.

Ex Berk BBS 98 (7 October 1997), lot 62.

From the earliest issues of the coins of Akragas, there are instances where the engraver of a reverse die appears to have synthesized a human face into the features of the carapace of the crab, as here. In fact, Westermark notes many examples, and agrees with the observations of others that even the likenesses of various animal heads are likewise occasionally engraved in the design. She also agrees that the most likely interpretation is that the human-like face is that of the river god Akragas, displayed within the features of the very emblem that is meant to represent him on the city's coinage. This phenomenon continued to recur on silver issues of the city throughout the fifth century, culminating in the spectacular issue of rare drachms in the third period of coinage, where the features of the carapace are totally transformed into a stark human face peering out from the reverse (cf. Kraay-Hirmer 183).

The final winners of all Triton XXV Session V lots will be determined at the live online sale that will be held on 25 January 2022 beginning at 10:00 AM ET.

Winning bids are subject to a 20% buyer's fee for bids placed on this website.

We recognize that our users may have various Internet Browsers and Operating Systems. We like our visitors to have the best possible experience when using our bidding platform. However, we do recognize that it is impossible to develop applications that work identically, efficiently and effectively on all web browsers. The CNG bidding platform supports the latest stable major version and the stable previous version of Mozilla Firefox and Chrome.