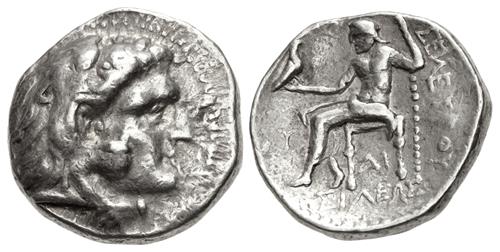 SELEUKID EMPIRE. Seleukos I Nikator. Second satrapy and kingship, 312-281 BC. AR Tetradrachm (26mm, 16.81 g, 10h). In the types of Alexander III of Macedon. Uncertain mint 1 in Cappadocia, Eastern Syria, or Northern Mesopotamia. Struck circa 294-281 or la
Electronic Auction 485
Lot: 172. Estimated: $ 150
Greek, Silver
Sold For $ 180. This amount does not include the buyer's fee.
SELEUKID EMPIRE. Seleukos I Nikator. Second satrapy and kingship, 312-281 BC. AR Tetradrachm (26mm, 16.81 g, 10h). In the types of Alexander III of Macedon. Uncertain mint 1 in Cappadocia, Eastern Syria, or Northern Mesopotamia. Struck circa 294-281 or later. Head of Herakles right, wearing lion skin / Zeus Aëtophoros seated left; monogram in left field, ΔI below throne. SC 50.3; HGC 9, 12b. Lightly toned, struck from worn dies. VF. Very rare.


Closing Date and Time: 10 February 2021 at 10:57:00 ET.

All winning bids are subject to an 18% buyer's fee.