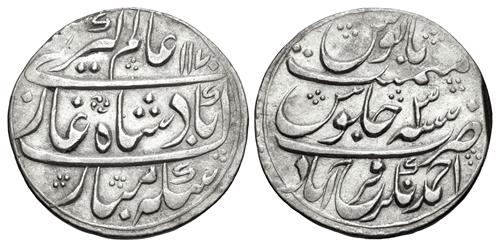 INDIA, Independent States. Farrukhabad. emp. Ahmad Khan Bagash. AH 1164-1185 / AD 1750-1771. AR Rupee (28mm, 11.13 g, 7h). In the name and types of the Mughal emperor Alamgir II (AH 1167-1173 / AD 1754-1759). Ahmadnagar Farrukhabad mint. Dually dated AH 1
Electronic Auction 477
Lot: 711. Estimated: $ 75
World, Silver
Sold For $ 50. This amount does not include the buyer's fee.
INDIA, Independent States. Farrukhabad. emp. Ahmad Khan Bagash. AH 1164-1185 / AD 1750-1771. AR Rupee (28mm, 11.13 g, 7h). In the name and types of the Mughal emperor Alamgir II (AH 1167-1173 / AD 1754-1759). Ahmadnagar Farrukhabad mint. Dually dated AH 1170 and RY 3 of Alamgir II (AD 1756/7). Persian couplet citing Alamgir II / Mint and RY date formulas. KM 12. Light porosity, areas of peripheral weakness. Good VF.


Closing Date and Time: 23 September 2020 at 13:56:40 ET.

All winning bids are subject to an 18% buyer's fee.